Surf Camp Testimonials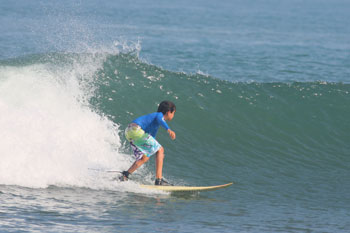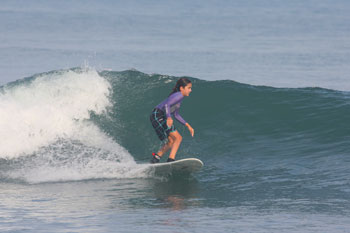 Thank you again for hosting our family for such a wonderful week in Pavones! We truly cannot express how you have touched our lives through your kindness, generosity, integrity and overall dedication to excellence in all that you do and in the way you treat others. You are a rare and beautiful couple whose gentle ways have made our lives so much richer. Ingrid, your stories and deadpan humor are priceless. Your healing touch is a gift. Dean your twinkling eyes and playfulness helped the children (including Bob and I) to keep having fun, surfing and smiling all the week long. Both of your Hawaiian heritage, Dean and Ingrid, shines through with the "aloha spirit" and your families must be so proud of you for that and all of your talents!
Bob, Valeh, Sydney and Bobby, March 2010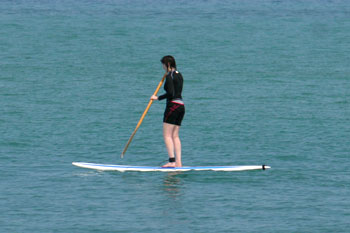 What a way to start 2010 and my 31st year! On my way back from yoga today (Friday) I was trying to think of the part of the week I like the most: the swimming, the food, the yoga, the river walk and spa, the one-arm surfing, the quad, the hike, Matapalo, Pavones, beers at the rock, sunsets, the food (I know I said that already:)- I LOVED ALL OF IT! Truly the best week on a trip EVER! Thank you for everything - merci beaucoup, la! :) and see you in Hawaii - you'll hear me coming, it will sound a little like cooloo - cooloo :) P.S. Just thought of my favorite thing:
You!
Carine Stewart, February 2010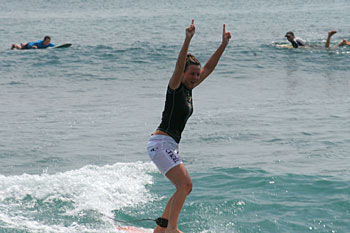 Thank you so much for everything, in one word, it was simply PERFECT! I hope to see you again in a few years in Hawaii, I would love to try your camp there with some of my friends!
Big Hug.
Sylvie Lepine, February 2010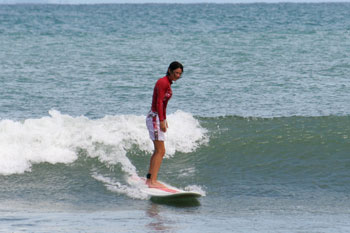 I have traveled all over the world, been on all kinds of wonderful/great vacations – incredible vacations… and my trip to Pavones was by FAR the best vacation I have ever had! And that was because of you two, your camp, your attention to making sure we felt welcome and connected! There is not a price I can put on that! Every single penny we spent in August was WELL worth it! We fell in love with the aura you both project, envious of the life you have created in such a magical place. Your lifestyle is Michael's dream – and I fell in love with it while there...
We LOVED EVERY SINGLE THING you both offered that made our vacation amazing. You two offer the most amazing service! So awesome, we plan to return to Pavones a LOT… and that's mostly because YOU TWO made us feel welcome.
Lisa McCann, August 2009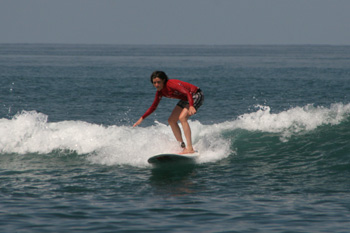 Thank you both so much. I wanted to tell you how perfect this trip was for me... this trip totally jump-started me.... I actually feel like a new person/ my old person now that I am back in the city... and even some of my coworkers have already commented and I just feel more like myself again. That said, I will certainly be back... NY is really where I want to be right now (not dropping it all yet) but it took leaving for me to realize how much I really enjoyed the surfing (I miss the water so much, and cant wait to check out the waves here!), and to realize that I really loved the unique makeup of Pavones. I've traveled enough to know that I am never just swept off my feet by vacation-time's lack of responsibility... Pavones seems like a really special place that has drawn so many interesting, thoughtful people. I had an amazing time. I felt so at home and welcome in this small, unfamiliar town. Thank you so much for being real hosts, not just "retreat leaders"
Nickerson Hill, March 2009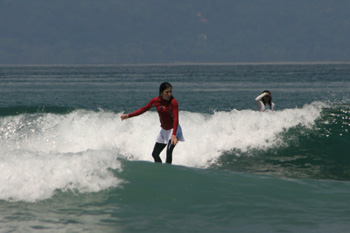 I miss you and look forward to seeing you again in 20 days, hoping to catch the perfect wave for me;) Thank you, you really made me realize I LOVE surf and I will work hard to become very good!!! I feel like I really found who I am in that sport and throughout my amazing week with you. I am happier than ever.....and I may be even more in 3 weeks!!!
Julie Lajeunesse, March 2009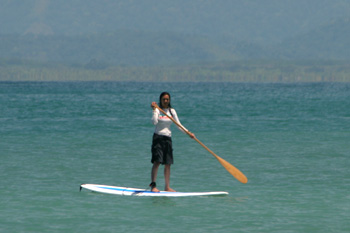 Thank you, Dean and Ingrid, for a really amazing and adventurous vacation. Despite being much more active than I would on any other vacation, I feel so energized and refreshed from it! It was great hearing about your experiences which brought you to Pavones and learning first hand from you about surfing, traveling, the culture and environment all around us there. Thank you for having and sharing your life with us and I hope to see you again someday!
Deepti Ballal, March 2009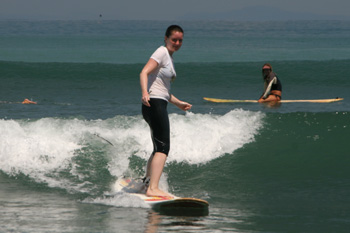 I had such an amazing time with you guys...thanks for making it all possible! I came to Venus for the adventure and it exceeded all of my expectations. Surfing was undoubtedly the highlight of the trip but everything was so well put together and so well balanced between the activities and relaxation - the total package was so impressive. The whole experience was positive and energizing. Even now I have been home for a couple of days I still have a buzz! Everything from the surf lessons, the trips, the photographs, the food, the accommodation and the company were all first class and this will be a trip I will never ever forget. Thank you!!!
Sarah Smith, March 2009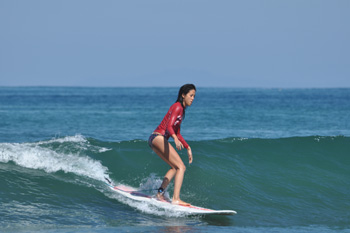 I just wanted to thank you guys again for an AMAZING trip - I returned to NY rejuventated and anxious to plan my next surf excursion. Although I have completely lost my tan, my memories of Pavones and surfing lefts in the bay still linger and are with me everyday.
Kyong Pak, February 2009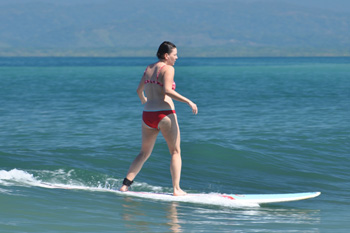 I thought Amy was awesome. She was so calm, educational and motivational at the same time. I really liked how she would paddle beside us and keep coaching us all the way while we caught the wave. I felt really confident with Amy by my side.
Cindy Platten, February 2009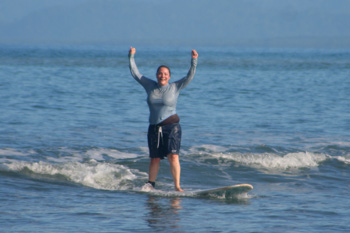 Thanks again for a great week!
Sara Levine, January 2009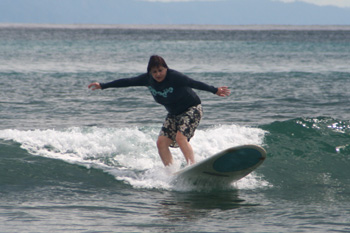 Pavones is perfect... I just loved it there, and we loved you guys too. I'm having Pavones withdrawls. Thanks again for your great hospitality.
Celyne Gaspe, December 2008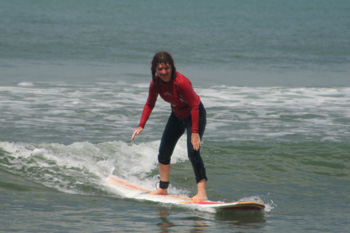 I've certainly found a new addiction. Anyway, cheerz muchly for the truly, excellent time! Oh, and Dean....Cowabungaaaa!!!!!!
Ginny Fanthome, December 2008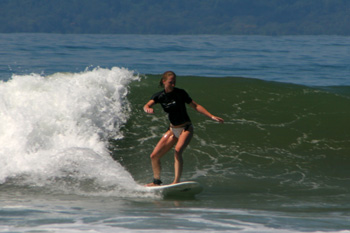 Thanks again to both of you for a great time at surf camp. Your dedication and professionalism is clearly evident in everything that goes on there.
Jesse Travis, December 2008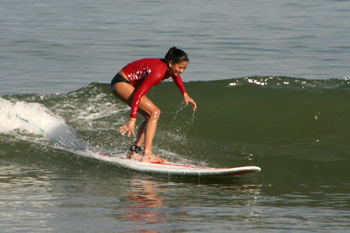 I'm back and in cold, wet wintry NYC but at least I have a wonderful tan from my trip to Costa Rica! I just wanted to say thank you so much for making my vacation in Pavones so incredible. I will have so many fond memories of surfing, yoga with Amy, boating to Matapalo, hiking Tiskita and coming across wild boars, and of course I can't forget the food! The unexpected parts of the vacation like the hike up the Rio Claro to go tubing, stand up paddle surfing, and watching the sunset over a nice bottle of Chardonnay really made this one of my favorite, if not my favorite vacation ever. It was really exciting, and fun-filled with so many things to do. Yet, I even had time to just sit back, relax and read my book. Thanks so much for organizing everything. I really got a great sense of the town, the people, the culture, the food and the wildlife. Pavones is such a special place, a real tight-knit laid back nice community. I really enjoyed my stay and hope to come back soon! I'll make sure I am able to go running with you guys!
Mae Resurreccion, December 2008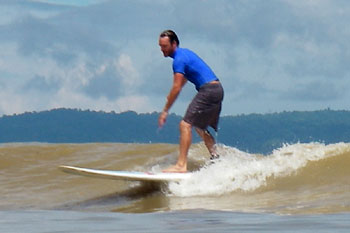 I need to get back down there to Pavones to relax a little bit! But thanks so much again for everything -- we had such an amazing time down there and it was all because of you guys. Hope to see you soon!
Will Forte, August 2008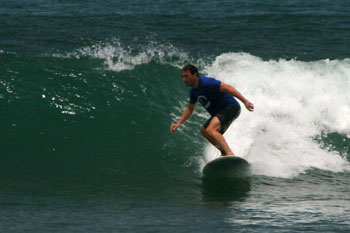 Thanks again guys! Really had a great time and I decided in my travels that you definitely did find the best place to set up camp.
Murray Miller, August 2008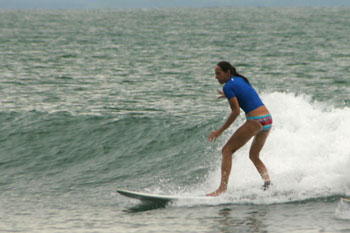 I had another great time in Pavones… big thanksJ The pics on the CD were great… loved the La Pina shots… sunset, moon, dancing… cool exposures! Big Smiles…
Marge Puccio, July 2008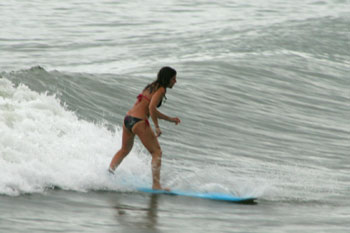 I had such an incredible time this past week - it was everything I could have hoped for and so very much more. Thank you both!
Lindsay Barrish, July 2008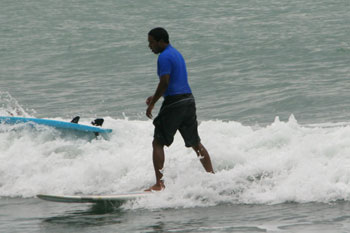 Can't wait til next time!
Josh Holmes, July 2008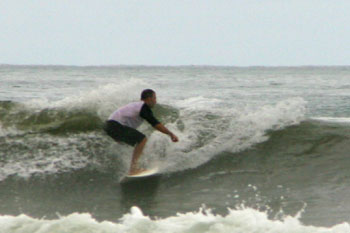 Just wanted to thank you so much for a great trip!
Joe Epstein, July 2008
Much thanks to Dean and Ingrid again for a seriously awesome time. You guys did a really job at setting everything up, were a lot of fun to hang with and however you arranged the hump back whale jump out of the water in between our two boats was amazing. I'm not sure how you pulled that off...
Gary Caponegro, July 2008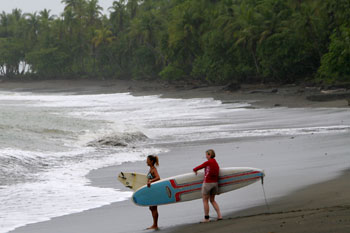 Dean & Ingrid, I just wanted to let you know I got home and I already miss Pavones and you guys too! Thanks so much, it was wonderful!
Edie Cheek, May 2008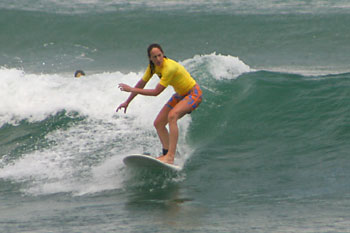 I had a great time on the surf adventure! Thanks so much for all the care you put into making this a wonderful tripJ Everyone was so good to us and I learned mucho! Look forward to coming back again…
Marge Puccio, April 2008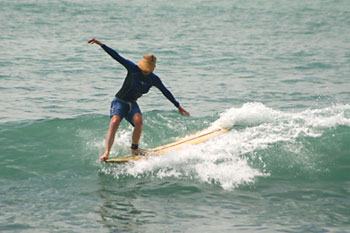 Hi Dean and Ingrid, had a great time in Pavones. Thanks for helping me work on my technique and helping me get one foot to the nose. Really enjoyed the activities and the restaurants, and I hope to make it back to Pavones some day soon.
Laura Bushnell, April 2008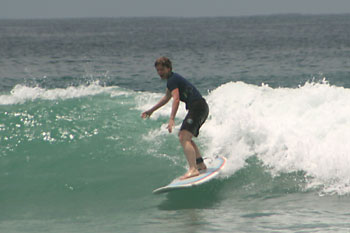 I had a wonderful time thanks largely to the both of you.
Holly North, April 2008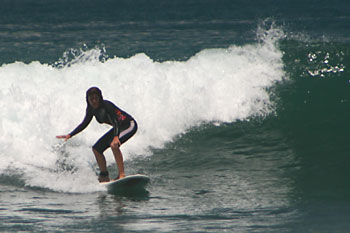 Thanks again for a great vacation!
Megan Brillault, March 2008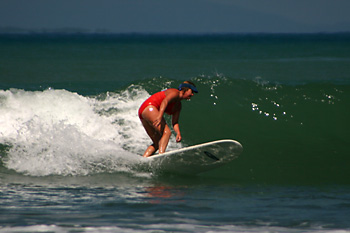 Thanks again for such a fun week. Your attention to detail really stands out. Its clear you are devoted to making sure your guests have the best time possible! Hope to see you again!
Nina Fabizewski, February 2008
This was more than a surf vacation. The warm water, consistent waves and daily surf instruction were very good but even better was the attention Ingrid and Dean paid to the entire Costa Rica experience; river tubing, eco-exploring, a boat trip to another beach with a different break, eating at a variety of great restaurants and, best of all, arranging activities for my non-surfing partner. The highlight of my trip was Cathy greeting me after a day in the rain forest with, "However much fun you had today, I had more." Dean and Ingrid did more than offer a great surf experience. They shared their love of Costa Rica in a warm and generous manner that made our vacation in Pavones one that we didn't want to end.
Kathy Conte, January 2008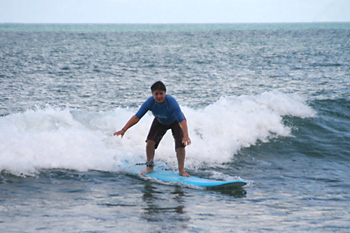 I would like to thank you for one of the most beautiful and extraordinary week of my life. It was a pleasure meeting both of you, also thank Katie and Tom for me, they were great also. Hope you all are well!
Denise D'Adamo, January 2008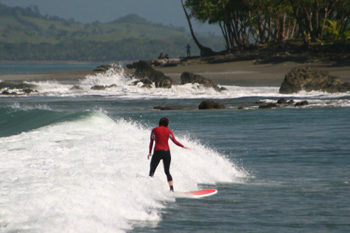 Hey! I was going to email you guys to say again how much fun I had. I already gave one of your cards to someone on one of my flights and I am trying to convince my friend to come there instead of silly old Peru. I did make it home, but kicking and screaming. It was definitely one of the rougher vacation-to-reality transitions.
Melissa Partin, December 2007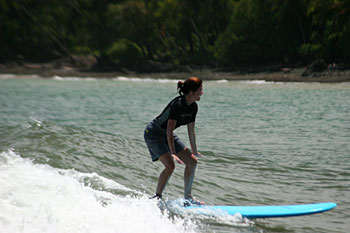 Just wanted to tell you what a wonderful time I had at Venus Surf Camp. It was truly amazing to experience life in Pavones as the locals do. The surf, food, hikes, yoga, and company were the best. And my birthday was one that I will not ever forget. It was hard to get back to reality and work! Hope you will look me up if ever in GA.
Ginny Perlis, August 2007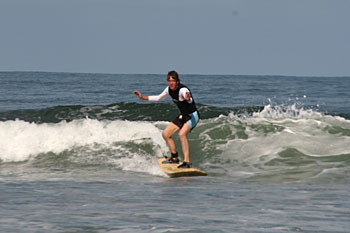 I think about you guys all the time and your words and faces resound in my head--Oh so many times I wished I could come back for just another week!!! Having so much feedback and having the intructors around us like guardian angels--so fantastic!!!
Anyway I can't tell you very easily how much I appreciated my week in Pavones--it so far exceeded my expectations!!! And--getting to know the two of you was so very wonderful--I really want to keep in touch.
Most of all what stays with me when I think of you is Dean's EXUBERANCE (which I try to embody when I'm feeling discouraged) and Ingrids' GRACE which I aspire to someday!!!
Rosalind Haselbeck, June 2007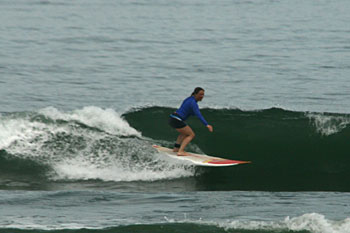 Thanks so much for all your support and encouragement. I hadn't really thought this might be something I could realistically do when I came home, but your enthusiasm was certainly infectious and I have to say I'm totally hooked. I even had a dream about surfing the other night! I'm planning to try and make a couple of visits to the coast this summer before it gets too cold, so will keep you posted.
Leah Deutsch, June 2007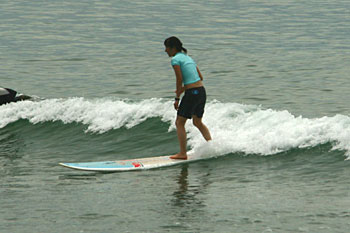 (The guy who rented us surfboards) offered to give us some pointers if it seemed to him that we were having any trouble in the water. But he never came out to us in the water. After we got out of the water and returned the boards, he said that it became immediately clear to him that we knew what we were doing and didn't need advice from him. We told him all about Venus Surf Adventures and he confirmed what we already knew, that we had good teachers.
Kathleen Kim, June 2007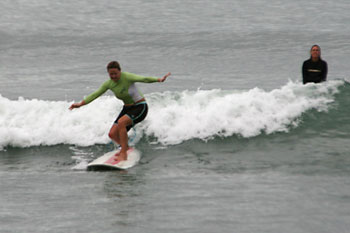 I had a blast and am already reliving it, telling all the stories. People over here in the ratrace entrapment are, of course, beyond curious. ; ) You guys really made me feel at home and although I took your hearts (from the pod in Tiskita), I'm quite sure I left a piece of mine in Pavones.
Dianne Weber, May 2007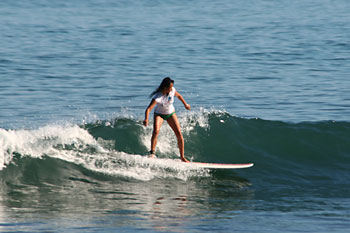 We had a wonderful time and have been telling everyone about it. I know lots of people we have talked to are interesteed in such a trip. :) Thank you for being such wonderful hosts. Enjoy some time off, and let us know how you are doing. We miss our surfing lessons every day and waking up in beautiful Pavones. Who knows... maybe we'll be back for an intermediate version of your surf camp.
Dacy Yee, May 2007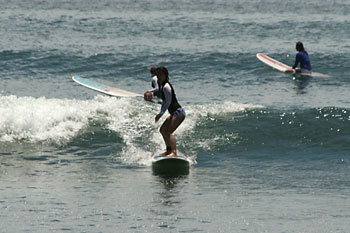 Safely back in the real world ( house was intact!) - just wanted to drop a quick email to tell you both how much I enjoyed my time at Pavones beach. It almost feels like a dream now that I am back in the noisy city! Thank you for making it so fun and comfortable. I will definitely keep surfing ( I already made my brother give me his 7'10 board!) even though the water here is cold and dirty... and there are about thousand people in the water! Hopefully, I will be able to come back to Pavones in the near future! ( and surf !) Good luck with everything and let me know if you are ever in NYC!
Miyako Masui, May 2007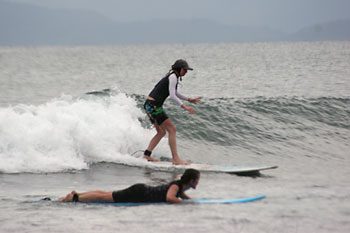 I had a great time with you guys it is almost hard to come beck to reality. You leave such a clean life away from all the media and all the toxic environment. I have learned so much from you I went to half moon bay and just watched people surf, now that I know what to look for. Thank you so much for the fun time.
Mirela Kusljugic, May 2007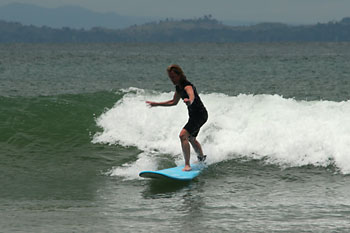 Thank you for helping me get the "feel" for surfing. It had been nice getting to know you and Pavones.
Martina Mysicka, May, 2007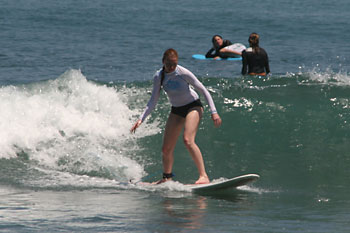 I feel great and am still in a happy place...even after being back three days.
Marti Funk, April, 2007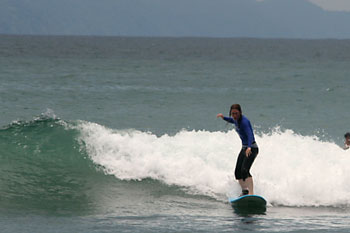 I'm going through fun TIME withdrawal!
Sara Francis, April, 2007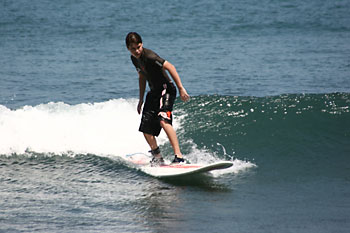 We just returned from our Family Week at Venus Surf Adventures in Pavones, Costa Rica. It was definitely a week to remember. My 14 year old son and his 50+ year old dad took on the challenge of learning to surf for the first time. They were helped along by the caring, expert instruction of the Venus crew. By the end of the week our son was riding the waves with confidence while his dad had fun just trying to keep up.
Our days were filled with surfing in the morning for the boys, swimming for mom, wholesome food coordinated by Ingrid and Dean, hikes along scenic trails, yoga, massages, boat trip across the bay and even an evening Latin dance lesson. There was something for every member of the family to enjoy.
It was made special by Dean and Ingrid's attention to detail to make sure everything ran smoothly. The highlight of the trip was the final night photo show when Ingrid and Dean shared photos of our high points, our bloopers, wild life (monkeys, sloth, toucans, macaws, etc.) seen on our excursions and the beautiful scenery of Pavones.
This was a once in a lifetime family vacation! Thanks Dean and Ingrid.
Lydia, Tim and Cameron Orlando, Florida
Tim, Lydia and Cameron Hay, Family Week, March 2007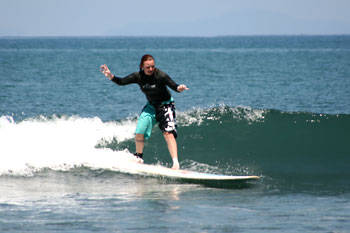 "I just wanted to thank you again for helping make my birthday a most excellent adventure!!! Without sounding overly corny and Hallmark card-ish - Thanks for sharing your beautiful town, surf break, hiking trails, friendships, everything! It was a magical week for me and I loved every minute of it... warm weather, new friends, lots of laughing and talking story always makes beer taste better, I think :)
Hope this finds you doing brilliantly and thanks again for everything - you guys are awesome! If you are ever in the Seattle area please look me up.
I am already starting to dream about future surf adventures!"
Kibby Bowen, February 2007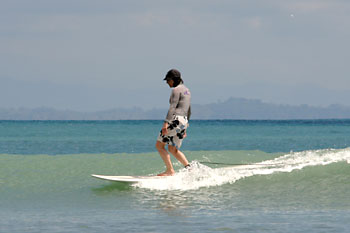 "Well I'm back home and at work today (ugh) but I'm still on vacation in my head and I can't stop telling everyone what a fantastic trip I had. Thank you both so much for such a memorable and action packed vacation. It is truly THE best time I've had in Costa Rica. I can't wait to come back... I watched the slide show again last night and went to bed with a huge smile on my face. I can't wait to show my family the pictures!"
Merryl Levy, January 2007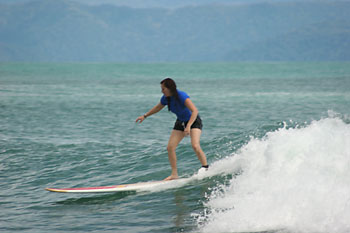 "I was feeling at the top of my game upon leaving Pavones. In terms of hosting, there's absolutely no comparison. You guys rock; are so thoughtful, open, intelligent and are really beautiful people to be with. Lights on the planet, that's what you are. I had an excellent time with you in Pavones. Mahalo."
Rebecca Goldfarb, December 2006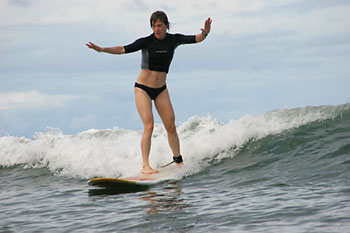 "Thanks again for a great time. I'm able to tell people that I am able to stand on a board and ride a wave in... it really was a great experience."
Beth Beattie, December 2006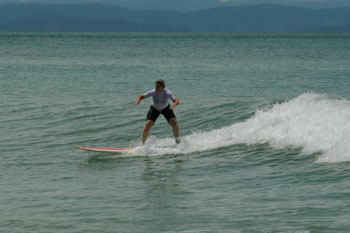 "Thanks so much for an unforgettable week at Venus surf camp!!! You are the best surfing coaches a girl surfer could ask for!!"
Julianne Tamasy, July 2006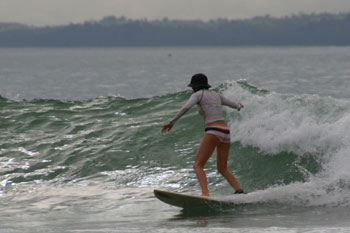 "I just wanted to say that I had an awesome week, thanks for teaching me so many proper surfing skills and showing me all the beautiful attributes of Pavones. I loved all the hikes and yoga, and exploring Matapalo. I'm so much more stoked on surfing now that I have more of a direction... I'm not just sitting out there scared and flailing around! I think of all the things to work on and I get stoked!"
Roberta Rodger, June 2006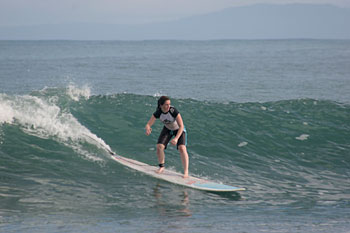 "Thanks again for such an awesome week. I already miss the surfing! I am already trying to plan my next surf weekend/trip, although the Northeast is nothing compared to Pavones. I am so happy I made the decision to come on the trip and getting to know you two, Tom and Katie and everyone else was amazing. I feel like I have a set of new friends in Costa Rica. I am having Pavones withdrawl and getting back into the work is tough. I find myself daydreaming about the trip while at my computer all day. I will definitely be back next year! See you in the spring. THANKS AGAIN ... you guys ROCKED!"
Margaret Schlachter, June 2006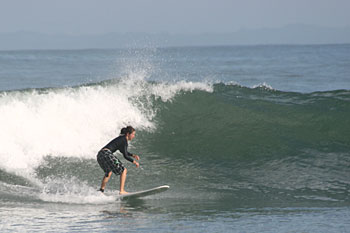 "Thanks again for everything,it was so great meeting the two of you (and of course everyone else...!) You did such a great job of organizing and running everything it was so very enjoyable!!! Hell, it was AWESOME!!!!!"
Sarah Mcqueen, May 2006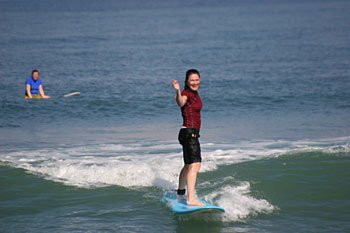 "Thanks for a great week and especially for all the photos."
Amy Woolever, April 2006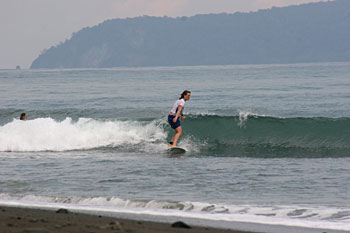 "Thanks again for a great week. I'm having trouble getting back into civilization again, back on the grid, etc, but it is nice to be home. Though I'm already trying to figure out when I can go surfing again...
Feel free to pass my contact info on... I'll definitely tell them how great you guys are, how wonderful the camp is and what a special place Pavones is.
Hope to see you again before too long."
Mel Dixon, April 2006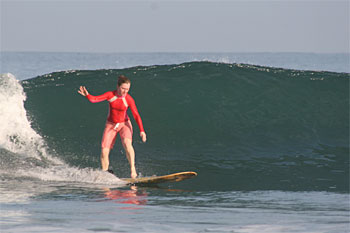 "I can't thank you enough for such a great trip! You guys do an awesome job, and are so on top of everything. It was all around a great vacation. Thanks for all your hard work and attention to all the details, and for showing us so many neat places, and yummy restaurants, and of course the great surfing!"
Sarah Lyon, March 2006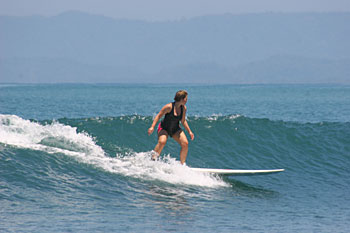 "Just wanted to thank you again for an amazing time. It was the trip of a lifetime and I will definitely be back."
Kristy Weiber, March 2006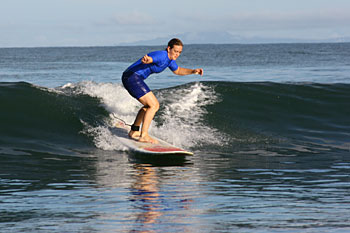 "I wanted to thank you for one of the best weeks of my life."
Mel Dixon, November 2005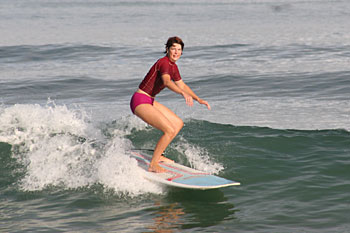 "I wanted to thank you for an incredible week full of unforgettable experiences. I am only beginning to realize how many activities I was able to squeeze in during my short stay in Pavones, thanks to your expert organization. My expectations were met or exceeded in every aspect of the trip. I really enjoyed getting to know you both, as well as Laura and Tom and some of the other locals. You are not only talented surfers, but also patient and effective teachers."
Lynn Truesdell, August 2005
"The first thing I want to convey is that my trip was exactly how I imagined it would be - only better. The pictures in the website's gallery give a clear and accurate portrait of beauty of Pavones and once there, I was immersed in the magic of the area. However, I realized that this beauty was the icing on the cake to the planning, organization and professionalism that Ingrid and Dean put into my experience at Venus.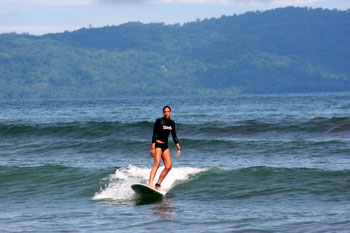 Not a day has gone by since I have returned home that I haven't looked through my pictures and thought about my week in Pavones. Even though I was traveling by myself (which can sometimes be tricky) Dean and Ingrid made me feel comfortable immediately and the whole week flowed without a hitch. There was not an aspect of the trip that lacked. The accommodations were great, the food was fresh and tasty, and the days were filled with activities that were tailored to a perfect pace for me.
Most importantly the surf lessons were great. The waves in Pavones were perfect for surfers with little or no experience-such as myself-and my safety was always a consideration. I feel like I gained real insight into the fundamentals of surfing and enjoyed the exhilaration of catching, standing up and riding waves (something I was not able to do at other locations where the conditions were not ideal for beginners).
To top it off, it was so cool leave with a CD full of pictures of my trip and me surfing!
The natural beauty of the terrain, the professional and gracious nature of Ingrid and Dean, and the real improvement of my surfing skills made for one of the best adventures of my life."
-jEn Hulett, June 2005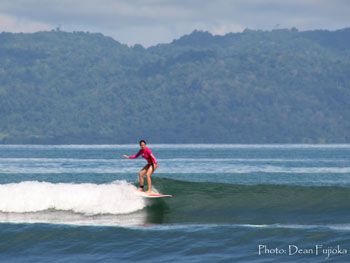 "I had the Best Time Ever at your camp. Far and away my favorite surf/vacation experience and I can't wait to come back. I have my computer screensaver set to the Venus CD slideshow, so the memories are constantly top of mind."
Connie Chen, May 2005
"At the Pavones break and with the help of your instructors, I was able to grasp and understand where one should be to be in the position to catch a wave. On previous breaks, it was not easy to 'see' where the waves were breaking or which way they were breaking. The rolling sets at Pavones, along with an instructor's eye and indication, allowed me to 'see' where the wave needed to be for me to know I was 'in' position. The waves at Pavones were a great size for a beginner. In addition, what a godsend it is for someone who does not have 'in shape' arms to have a manageable distance to paddle out to the break.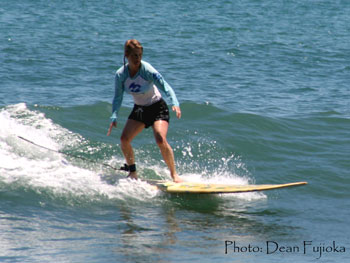 Laura and Tom were wonderful instructors as they were patient and thoughtful about where my head was 'at'. If I felt anxious about going for a wave because of its size or people near me, they were fine about waiting for the next one. They were supportive and encouraging which to me are the most important things I need out there.
It is helpful to have someone on the beach watching as well as often the instructors literally can't see you once you have caught the wave and are riding it. Dean's comments from the beach were great. And, I also felt well-watched over in that if I didn't come up from under a wave or was in trouble, someone on the beach would see it and could signal to others.
I really enjoyed being able to ride a number of different sized boards. I liked them all-didn't think one was a dud over the others. Having the boards in close proximity to the beach is a godsend to someone with under developed arms. I really enjoyed, not only the boat ride across the Bay, but the opportunity to surf another point break-and a right at that.
Staying at the Riviera was great...I loved my little cabin with the garden landscaping and the close proximity to town. It is so nice to be close enough to easily get into the square to eat, hang out and get a feeling for being a part of 'town'.
The meals were excellent and I am astounded that a town the size of Pavones has so many great dining experiences. I loved the Café-excellent, healthy meals and Parker's Perch and the Italian restaurant were fabulous. I also thought the local pizza we had was great.
I and D, you did such a wonderful job of being leaders and hosts...making sure we were happy in our lessons, meals, and extra activities. Your organizational skills and follow through gave me confidence that I was in good hands and would have a good time. I loved getting out on the hikes to see the waterfalls, monkeys and the countryside.
Going home with a disk of photos of the trip and photos of me surfing is a priceless. I mean it-priceless. I can't thank you enough for making this benefit a part of the Venus experience.
I am sure I have left something out but I think this gives you a good idea that I thought the trip was fantastic all the way around...surfing, lessons, leadership, the town, accommodations, meals, and other activities."
Catherine Ericson, May 2005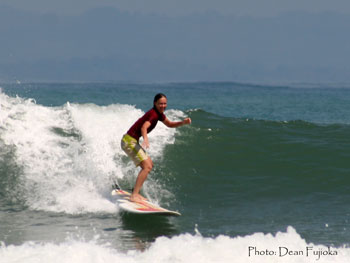 "…thank you two for being so great--both before the trip and during. I had such a great time and it was exactly what I imagined it would be and more. So thank you very, very much. You two are awesome and deserve all of the success that is coming to you! I can see why Pavones inspired you to set up camp--I think of everybody often--please tell Tom, Laura, and Amy hello!"
Janine Confer, April 2005
If you would like to speak to someone who has been on a Venus Surf Adventure,
contact us
and we will provide you with their information.