Ingrid has her M.A. in Teaching English as a Second Language and years of teaching experience. She also has her massage license with the state of Hawaii where she grew up. Ingrid has been surfing for nearly 20 years. Since 1995 she has been traveling to Mexico and Central America surfing and enjoying the warm Latino culture. It was here that she found a way to merge her interests and talents in education, health care, Latin America and surfing (the best of all). Ingrid's CV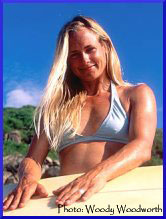 Ingrid Seiple, Owner
Tommy Neuner, Surf Instructor

Tom grew up surfing in South Carolina and Hawaii, but has been in Pavones for almost 7 years. As a youngster, he competed in the ESA and HASA, making it to the nationals in 1992. Tom is a natural teacher and has been instructing in Pavones for 5 or 6 years.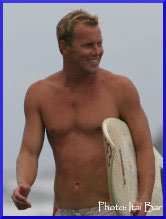 Amy Khoo, Yoga Instructor

Amy has been practicing yoga for 13 years of her 14 years living in Costa Rica. She studied and did teacher training in Ashtanga yoga with David Swenson and also studied and practices Bikram yoga. Her many years of yoga and surfing experience inspired her to design her own yoga for surfers, a combination of stretching and strengthening that addresses the body needs of a surfer.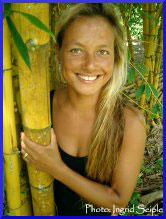 Katie Kalmbach, Surf Instructor, Massage Therapist

Katie grew up surfing and exploring the coasts of Costa Rica, and speaks spanish fluently. She graduated from the University of Texas and taught ESL and special education for three years. She is a massage therapist with certification from the Nosara Institute in Guanacaste, Costa Rica.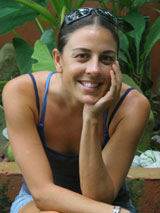 Jamie Cada, Family Activities Coordinator and Riviera Manager

Jamie grew up in Santa Cruz, CA where she learned to surf. She attended UCSC where she studied ecology, Spanish, and art, graduating with a degree in Environmental Studies. That same year, she traveled through Mexico and Central America and finally settled in Pavones, Costa Rica. Jamie has lived there ever since with her husband, Sean, and children, Leilani and Noe. Pavones has been the perfect place for Jamie and Sean to surf and raise her children, spending time with them and teaching them to surf and enjoy the ocean. Her husband, Sean, is her greatest inspiration as a surfer.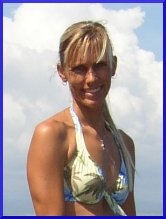 Dean Fujioka, Owner, Photographer, Guide, Surf Instructor, Computer Guy

Dean has been riding waves for 20 years, most of them in Hawaiian waters. He holds a business degree with a focus on Environmental Studies and Information Systems. Dean is a computer expert, and has been working with them since 1996. Dean met Ingrid in 1997 and then in 2003 they left Hawaii together driving south from California in search of the perfect wave, a new place to finally settle, and the best location for a surf school.